Cause 2 Connect-C2C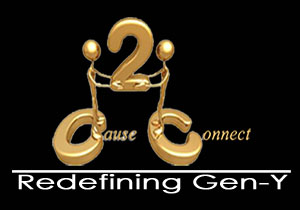 It's a relentless drive by Prof.Khan as ASR (academic social responsibility) Initiative for the last few years for the unprivileged youths across the country based on his independent and intensive interaction with thousands of young people from various backgrounds and at different places across the Odisha state during his academic span of more than seven years.

So, it has been firmly concluded after his tireless study that a majority of Gen-Y (18-28yrs old)in Odisha suffer from acute lack of 7C's (Communication, Confidence, Career, Charismatic Leadership, Counselling, Creativity, Competitiveness) related problems, and hopefully the same would be the problems in neighboring states also and as a whole in the whole of India. So, to sort out these serious issues there is no such organized (non-commercial or non-profit organization) outlet to take such responsibility either independently or collectively. As a result, those youngsters face lots of trouble for their higher studies, employability, working at different metros seeking a good job and many more due to deficiencies of people skills or social skills or soft skills during the course of their life.

"A Foundation" dedicates itself to be the catalyst of change, both human and organizational, and will contribute, however small the measure may be, towards the process of transformation that will benefit the society as a whole.

In this regard, "Cause 2 Connect-C2C" an A Foundation (Non profitable organization) initiative helps lots of youths across the country as a role model through its "Connect the Unconnected" concept, i.e. "7C's Free Online Academy" Lots of professionals from diversified fields extend their valuable support and discharge a true social responsibility towards their younger generation for a better tomorrow through "7C's Free Online Academy"

Also we are interested to create social franchisee model at different places. The "A Foundation" can be replicated through social franchisee at your city/town. All necessary support will be provided by "A Foundation" free of cost. Thousands of youngsters will be benefitted in your areas through 7C's modality of "A Foundation". We are planning to operate at different district head quarter level through sustainable development for the greater interest of youths through SEM (Social Entrepreneurship Model) which creates employability, expertise, trainer, entrepreneur and overall students community gets maximum mileage at a remote location.

So, we are looking forward your warm support in the form of volunteers, students, trainers, social entrepreneur, teachers, different professional, knowledge workers, retired persons, different organization for sponsoring professional development workshop(PDW), self-motivated donors, schools/colleges authority , any individual or group for a collaborative work for the development of unprivileged youths, vocational training expertise, entrepreneur cells, valued based admired person or even a well-wisher to extend their valuable support in different formats of "Cause 2 Connect" across the country is also most welcome as our associate milestone for a noble cause.

Meanwhile, lots of individual and corporate has come forward with a positive interest. But at this juncture, we need only your e-support, good wishes, compliments and suggestion is highly essential to work together towards a common goal. We have only ignited but you all will be a part and great support to accomplish the desired social objective for unprivileged youths

Finally, it's an appeal to the connected or known youths (those going to or attending good schools and colleges/institutes). Could you please connect us to those Unconnected youths (not able to avail such benefits due to socio-economic problems) through e- support, i.e. promote n connect the unconnected group with "A Foundation".

How an individual would be connected to resolve their 7C's related issues across the country irrespective of any social demarcation.


Please fill the registration form and mentioning area of interest to be a part of "Cause 2 Connect -C2C" a great ASR (Academic Social Responsibility) mission and movement for the benefits of unprivileged Gen-Y (18-28yrs old).
Simply fill "7C's Free Online Academy" form and send email to c2c@foundation.in
Lastly, Tons of T H A N K S for enrolled associates for their warm association and support for a great cause i.e. "Cause 2 Connect - C2C" Campaign for helping millions of unprivileged Gen-Y (18-28 years old) across the world, irrespective of their birth and social status.

The future of this country will be influenced by people's attitude and willingness to be taught and trained. For this a trainer needs to be a teacher first a noble human being within...

Think about it and be a part of "Cause 2 Connect- C2C". We are getting overwhelming response from unprivileged youths both through phone, mail and in person. To sensitize them further and to avail the benefits, it's an appeal to all: Help our noble concept called "Connect the Unconnected" through "Cause 2 Connect-C2C" initiated by "A Foundation" in different social media!

P L E A S E share these ideas and requests your friends to be a part of "Cause 2 Connect - C2C".
Your valuable patronage will be highly regarded, admired and acknowledged.

Stay Inspired & Feel Blessed!
Connect the Unconnected

Prof.A A Khan